by Guido Romeo
Only one out of ten schools in Italy, among those considered at risk, have undergone a seismology control. According to the Minister of infrastructures, 22,858 schools are considered highly at risk: about half of all Italian schools, from primary to high schools (57,000).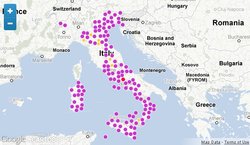 Schools undergone seismology check are only 2,400, according to the Gazzetta Ufficiale and reported on Wired's September issue. Unfortunately, the outcomes of the controls, summarized into a risk index, have been published by two regions only, Lazio and Abruzzo. We do know that controls have been performed in many other regions too, as regional budget expenses say, but outcomes have non been released.
Our interactive map that we are building up thanks also to citizens' collaboration will allow us to know names of all schools, the seismology indexes of all buildings and the amount of funds used to perform checkings in all regions.
– The complete article is available only in Italian –